Founded in 1982, The Paul Robeson Performing Arts Company, Inc. is a non-profit, tax deductible 501(c)3 that provides the Central New York community with high quality theater performances that come out of the African American Tradition. Actors, dancers, singers, writers, musicians, directors, and theater technicians (of all ethnic backgrounds and performance levels) are invited to develop their skills in the performing arts. In doing so, the richness and diversity of the African American Tradition is celebrated.



To provide the Central New York community with high quality theatre performances coming out of an African American tradition while at the same time providing opportunities for artists (youth and adults) from minority communities

To offer multicultural experiences, i.e., Paul Robeson Performing Arts Company multicultural Youth Ensemble and co-productions of our adult theatre with other theatre groups

To provide students of all levels an opportunity to participate in cross generational artistic interaction

To give students, community members, and the Central New York community an opportunity to display their skills and talents in an atmosphere of mutual respect



In 1982, with opportunities for African-American actors, dancers, singers, writers, directors, technicians, and audiences lacking in Syracuse, William H. Rowland II and Roy E. Delemos founded The Paul Robeson Performing Arts Company Inc. (PRPAC) to enhance the life of the community with the richness and variety of African-American culture. They named it in honor of Paul Robeson (1898-1976), the multi-talented performer and activist whose passion for excellence on the stage, screen, in musical concert, and social justice in society embodied what they hoped to accomplish.

The first production, "An Afro-American Christmas Carol," written by Rowland and Sandy Smokes, and directed by Rowland, opened in December 1982 at the Hutchings Psychiatric Center Auditorium. A residency at the Landmark Theatre began in 1985, allowing PRPAC to present many Broadway-level productions on the main stage, including "A Tribute to Motown," "Bubbling Brown Sugar," "Ain't Misbehavin'," "Purlie", "Tambourines to Glory," "A Raisin in the Sun," and a multicultural "Godspell" cast with a black Jesus.

Throughout the 1980s, PRPAC productions included black Syracuse University students, both drama majors and others, who found limited opportunities for expression on campus. In 1988, black students protested the University's lack of support for the African American Studies Department. The resulting 13-point outline to develop the department, signed in April 1989, brought PRPAC into the department as a community outreach component. As PRPAC's executive artistic director, Rowland became an adjunct voting member of the AAS faculty. In his first year, he taught a course in black theatre, a performance of "What's Goin' On?" was presented at the Schine Student Center, and playwright Marshall Williams came to Syracuse to develop and present his play "A Tear for Judas" with Rowland's class.

PRPAC's musical theater productions, including "The Wiz," "From the Cotton Club to Motown" and "What's Going On—The Musical Genius of Marvin Gaye," are the company's most visible works. In 1996, the company took its Syracuse production of "What's Going On" to Trinidad and Tobago for an engagement in the West Indies Republic. Its programs include a Gospel Ensemble, Jazz Ensemble, Dance Ensemble, and Adult Theater. Performance venues for the ensembles have ranged from the Civic Center to the New York State Fair to Syracuse Jazz Fest and the Candlelight in the Square series in Armory Square. Youth programs have included the Youth Ensemble and a Gifted and Talented Summer Camp for children to learn and practice music, drama and creative writing, movement, and stage technology. PRPAC has also partnered with the School for the heARTs, a community-based afterschool program for city school students.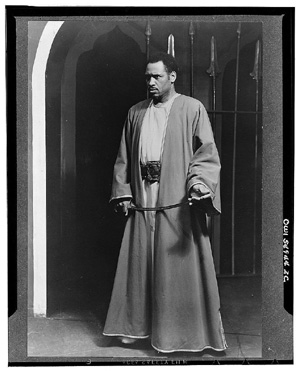 Paul Robeson in Othello,
Theatre Guild Production, Broadway, 1943-1944